Who, after a week in which fears over Spain's banking system morphed into broader worries about the global economy– capped by weak data from China, the eurozone and US on Friday – is going to take the action that will stop markets falling?
This week equity markets have sold off, the oil price has fallen below $100 and government bond yields on 'safe haven' countries the US, UK and Germany have repeatedly fallen to new record lows as investors again seek safety.
On Friday there was sufficiently dire news from all of the world's major economies for calls to be raised for more economic rescue measures from each of them:
In the US, the worst nonfarm payrolls data (a closely watched measure of the US labour market) in a year led to chants for 'QE3' from the US Federal Reserve. Fed chairman Ben Bernanke could provide more clues as to the central bank's plans when he gives evidence to the Joint Economic Committee of Congress on Thursday.
In Europe, there have been a string of comments from European Central Bank (ECB) chairman Mario Draghi and commissioner Ollie Rehn urging member states to take action, while warning about the fragility of the eurozone and the threat of disintegration. Added to these comments have been growing fears about the health of Spain's banks after Bankia's bail-out, as well as a string of downbeat data form the eurozone where unemployment has hit a record high and consumer confidence a two-year low.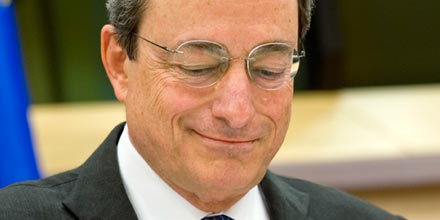 In what will perhaps be the closest watched event for markets next week, the ECB meets on Wednesday to vote on interest rates and monetary policy. Investors will be listening closely to comments from Draghi (pictured) – hoping for reassurance – but a rate cut to help markets is not expected for now. The Bank will however present its latest economic and inflation forecasts.
In the UK, the Bank of England could act to increase its quantitative easing programme from the current £325 billion after a particularly weak report on manufacturing activity. Lloyds economists say another £50 billion is likely, though like the ECB, the Bank's monetary policy committee could choose to wait it out amid the uncertainty. Any increase though would not provide a significant boost to the FTSE 100, which is more closely tied to global events.
Then, in China, after May's manufacturing PMI – a closely watched indicator of the state of the economy – dropped to 50.4 (below 50 would mark a contraction), hopes have increased again for action from the authorities. These hopes gave markets a lift at times over the past week, though official reports have refuted suggestions that the Chinese are preparing to act.
In unpredictable and volatile markets, authorities around the world – watching Spain and Greece ahead of the latter country's election on 17 June – look likely to sit on their hands for another week.
FTSE Diary:
In a curtailed week in the UK because of the Diamond Jubilee holidays on Monday and Tuesday, there are few scheduled corporate announcements, leaving the FTSE even more at the whim of economic and political news.
Johnson Matthey (JMAT.L) publishes a full-year 2011/2012 earnings release on Thursday, while security firm G4S (GFS.L) is holding its annual general meeting on the same day.