The Bank of England is likely to extend its quantitative easing programme next week, economists said today as a measure of UK factory output unexpectedly plunged.
The manufacturing PMI index dropped from 50.2 to 45.9 in May, its lowest for three years. This takes it back below the 50 level that separates expansion from contraction and – as shown by the chart below – puts the UK in league with the extinction-battling eurozone.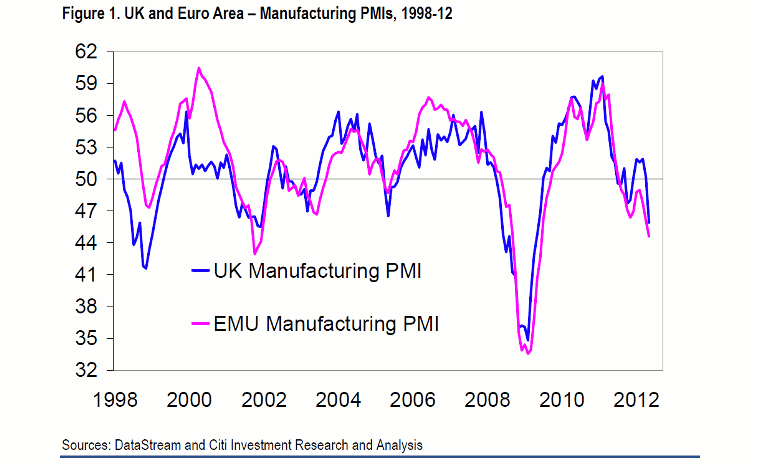 The Bank's monetary policy committee (MPC) resisted extending its QE bond-buying programme at its last meeting in May, maintaining it at £325 billion despite the UK's return to recession. New figures published last week showed the recession is even deeper than previously forecast, with the economy contracting by 0.3% in the first three months of 2012.
Michael Saunders of Citi said the next installment of QE could come next week: 'The MPC's relative optimism over growth prospects looks misplaced. Growth has repeatedly undershot the MPC's forecasts in recent years and in our view it looks like the MPC will now have to accept that their latest growth forecast was also far too optimistic.'
Meanwhile inflation has fallen sharply, hitting 3% on the consumer prices index in April and expected to carry on dropping. This gives the Bank more leeway to act.
Adam Chester of Lloyds Bank said: 'Since holding off from announcing more QE in May, UK inflation has dropped sharply, domestic conditions have weakened and the euro crisis has continued to intensify… the case for further QE now looks compelling.'
Chester expects another £50 billion of QE to be announced when the MPC meets next Thursday, though it is not a dead cert. 'The BoE may prefer to hold off from announcing any further stimulus until it has seen the result of the Greek elections on 17th June. If, however, next week's services PMI comes in materially weaker, it will be very difficult to argue the case for delay.'
Not everyone agrees. Howard Archer of IHS Global Insight remains of the belief that the nine man monetary policy committee will wait for now. But, he adds, 'even if the Bank of England does hold off from more QE next Thursday, it is looking ever more likely that it will go back down that road before long'.